Created on January 25, 2021, Last modified on May 23, 2023
Firebolt™ Application Platform comprises WPE browser to build Web/HTML5 apps. WPE is a modern browser for embedded devices to provide rich media elements, graphics and animations. Web/HTML5 apps are cross-platform applications and are the best approach for webpages. For the development environment build the apps for Raspberry-Pi platform and they are easily portable across multiple RDK powered connected home devices.
step 1

Download

—

Download requires Login
step 2

Install on Raspberry Pi

Minimum requirements for support of Raspberry Pi models for Firebolt™ App Platform:

Supported Raspberry Pi models for Firebolt™ App Platform:
Raspberry Pi 3 Model B+
Raspberry Pi 3 Model A+
Raspberry Pi 3 Model B
Flash the image on Raspberry-Pi using etcher.
Etcher provides easy way to flash the image on SD card across all the platforms, Windows, Mac, and Linux. Flash the image on Raspberry-Pi using Etcher.
step 3

Input/Output Access to Raspberry Pi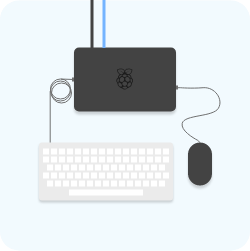 Your setup should resemble the one in the picture on the left.
Connect HDMI.
Connect Ethernet.
Connect USB Keyboard.
Connect USB Mouse.
Insert the SD card with the Firebolt™ image flashed.
Power on the Raspberry-Pi.
step 4

Getting to know Raspberry Pi

A USB keyboard or remote control (on supported systems) can be used on the device to launch an app on Raspberry-Pi.

The following actions are supported:
Pressing the up and down keyboard arrow keys (or remote arrows) moves between the apps.
Pressing Enter (or OK button remote) will launch or switch to a selected app.
Pressing left or right arrow keys (or remote arrows) will select one of three options (Launch/Suspend/Stop).

Launch will launch the selected application, if an app is already launched it will be switched to.
Suspend will put an application in suspend state if it supports.
If an app is suspended this option will become Resume, which when pressed will resume the application.
Stop will stop the application.

When an application is taking up the whole screen Pressing Ctrl-m will bring you back to the app manager.
To reload the app manager (if the contents of the usb key were changed) press Ctrl-e (or Exit key on the remote).
step 5

Access our GitHub for Sample Apps

View all of samples apps on our Github page. Copy anyone of them to get started.
step 6

Add New App to the Configuration file

{
	"applications":
	[{
			"displayName": "Youtube",
			"uri": "https://www.youtube.com/",
			"applicationType": "WebApp"
		}, {
			"displayName": "RNE Video Player",
			"cmdName": "rne_player",
			"uri": "/usb/partnerapps/rne-player/rne_player",
			"applicationType": "native",
			"version": "1.0"
		}, {
			"displayName": "Fancy.js",
			"uri": "http: //www.pxscene.org/examples/px-reference/gallery/fancy.js",
			"applicationType": "pxscene"
		}, {
			"displayName": "Partner App",
			"cmdName": "sampleapp",
			"uri": "/usb/partnerapps/partnerapp",
			"applicationType": "native"
		}
	]
}